Curvy Anti Chafing High Rise Long Cotton Shorts - Fancy 3 Pack
$114.95 $204.95
Or 4 fortnightly interest free payments from $28.74 AUD with
More info
Save on your purchase now with this value set! Choose from a variety of interesting colour options to suit your everyday life.
These anti-chafing shorts are made from a lightweight and breathable cotton-rich fabric that's perfectly practical to wear for all climates. The full coverage design helps to greatly reduce any thigh rub and feel soft and smooth for maximum comfort. The waistband is light and comfy and the fabric moulds itself to your figure to fit you perfectly; while the feminine lace detail lays softly against the skin.
Cotton-rich fabric

Stretchy and lightweight for ultimate comfort

Long leg length

Soft and breathable feel

Soft lace detailing on leg

Minimises thigh rub/chafing

Ideal for all year round wear

High waist design with light, comfortable waistband
Fabric Content: Cotton/Nylon/Elastane. Cotton Terry Gusset.
Care Instructions: Warm machine wash. Line dry.
Sizing Note: These shorts are stretchy and flexible in sizing. Note that they are generous in the waist and body. If you are in between sizes we recommend sizing down.
Customer Reviews
Write a Review
Ask a Question
02/22/2021
I recommend this product
Anti chafing shorts
Great cotton shorts that don't ride up on leg when wearing them. Very comfy and light control.
Sue R.

Australia
02/12/2021
I recommend this product
Absolutely Fabulous
I love these anti chafing shorts. The fabric is so soft & comfortable, you don't even know you are wearing them. Love the colour options & also the fact you can buy in packs. I highly recommend them - the best I have purchased.
Mrs. Rachel Fitzgerald

Australia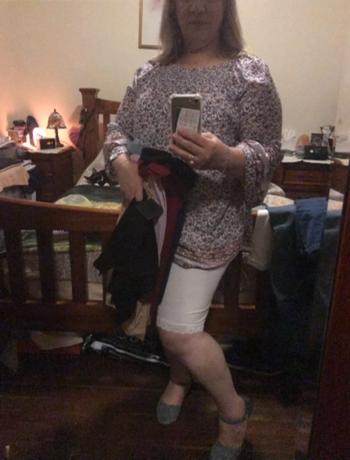 02/11/2021
Modest, comfortable, versatile
Absolutely love these and don't wear dresses or skirts without them! I don't have to always wear pants and leggings only as these give me the choice. These are cool and comfortable and don't feel sticky on a hot day! They cover more than other brands as they are a longer style and the hems do not cut into my thighs above my knees. They don't dig in at the waist or restrict my breathing or movement as tighter fitting shorts styles did in the past where only corset type underwear was available even for dealing with chafing! I can wear them with longer dresses and skirts especially if it's a little cooler but you don't want to wear leggings or pantyhose and in winter I wore my plain ones without lace on the hems under loose fitting dressy pants for added warmth. I like that I don't have to pull them down as they don't ride up. They are a little loose on the hems but if I pull them up at the waist a bit it fixes that as I prefer not to go smaller. I wore the **** ones with a formal lace hot pink dress for a Christmas party and wore sandals. It was fantastic not to have to wear annoying pantyhose and leggings aren't suitable to wear with all outfits and occasions. These are discreet and you know what else? You can feel confident that you're not showing something you shouldn't if someone looks up the stairs at you from below or keeping your legs tightly crossed all night as these protect your modesty too. Having plump thighs this gives me confidence.
Stavroula S.

Australia
02/06/2021
Does exactly what I was hoping for
These are exactly what I was wanting for warm weather days. They don't ride up or down and are comfortable and light. The only thing I don't love is that I can hear a swishing sound when I walk, which makes me feel a little self conscious, but otherwise I am very happy with the product. Shipping was prompt. An overall great experience.
Anna C.

Australia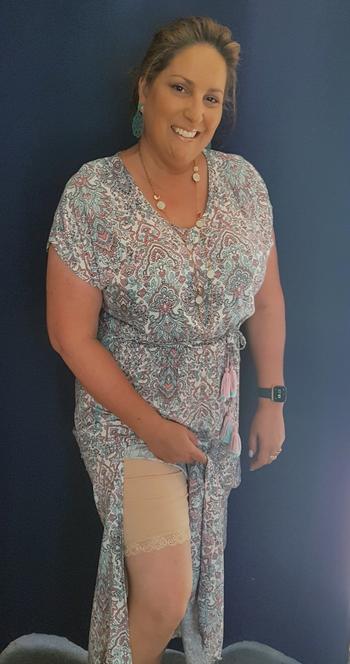 02/06/2021
Flowy Frock Friday!
Loving these cotton shorts. They don't cut you in half like other brands and are so breathable. Now I can enjoy Flowy Frock Friday at work in comfort safely knowing it won't accidentally become Flashy Friday.
Janeen G.

Australia
02/04/2021
Anti-Chafing Cotton Shorts
These are the best I've tried. They're so comfortable and soft and don't roll up my legs. I'm planning on buying another couple of pairs.
Louise O.

Australia
02/03/2021
Excellent
These shorts are great, means I can were my favourite dresses all year round. I found them to be generous sizing and will go down a size next time since they are so stretchy.
Kylie M.

Australia
02/03/2021
Neutral perfection
I love the comfort these Anti-Chafing shorts provide. Protects the inner thighs and are snug without tight zones. They are also stylish and flattering as they easily colour match with most bras. Will definitely be adding more to my already growing collection.
Emilia S.

Australia
02/01/2021
Anti Chafing Cotton Shorts
My order didn't take long to reach me in spite of the actual situation. The shorts are just very feminine and very comfortable. I am very happy to have ordered them as they will be of great use to me. Thank you for the promptness of the delivery though I am in Perth.
Nusrah A.

Australia
01/25/2021
Anti-Chafing Cotton Shorts
I found these very comfortable and lightweight and it really did stop chafing thank you.
Linda H.

Australia