Power Brief
$34.95 $69.95
Or 4 fortnightly interest free payments from $8.74 AUD with
More info
Look no further, for you've found the one. The one and only power shaping brief. Designed using innovative seam-free technology, to create extraordinarily supportive panties which flatter your figure. The power shaping brief specializes in lower stomach control, sitting just below the waistline to slim down your entire lower torso.
Best suited to those with a small 'lower tummy pouch' and some waist definition. 
For ladies with an apple shape we recommend an 
underbust shaper.
The high cut leg is universally flattering, and a cotton gusset ensures breathability as well as absorption. Seamless for all day comfort, there are no tags or labels to cause irritation. It's just perfect.
Flattens lower tummy
Firm control
Smooths body line
No panty line finish
Side-seam free
Tag and label free
Cotton gusset
Care Instructions: Warm machine wash. Line dry.
Fabric Content: Nylon/Elastane. Cotton gusset.
Control Level 3
Double Layer shaping fabric targets tummy zone with maximum control
Customer Reviews
Write a Review
Ask a Question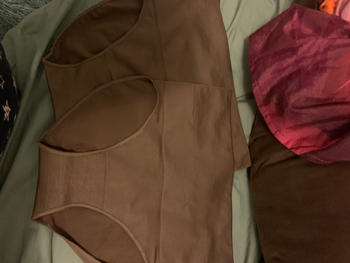 07/19/2020
I recommend this product
Recommended !!
I love the product and materials
Komang R.
Australia
07/01/2020
I recommend this product
Judy
Ive been shopping with B-Free for a long time now and have been very happy with the garments and the personal attention they give their customers is very much appreciated
Judith S.
Australia
07/01/2020
I recommend this product
Power brief 3 pack
Very comfortable and looks stylish also
melissa g.
Australia
05/28/2020
I recommend this product
Woah
This is my first time purchasing any type of shapewear so I wanted to get something simple. Needless to say I am beyond happy. About 1 year ago I moved from a very active very busy standing job to a slow paced sitting down job, putting on 15kg in the process. I have a very petite frame and the weight gain has given me a lower belly pouch which makes me feel very insecure. I'd taken to wearing large baggy shirts to hide it which only made me feel worse about my body. While I'm working to lose the 15kg again, I thought I'd purchase these to help with my confidence when I'm out and about so I can wear my normal clothes and not feel so insecure about my body. I ordered 4 pairs of these underwear arrived yesterday, and I wore a pair both yesterday and today. I can wear my normal clothes and my belly pouch was almost completely obscured!! Going out and exercising I felt so much more confident. I'm amazed at how well these work. They're also incredibly soft and comfortable and easy to put on. My only complaint is that due to the fabric type, panty liners don't stick. A small price to pay!!!
Ruby
Australia
05/29/2020
B Free Australia
Thanks for your amazing review Ruby! The good news is that panty liners not sticking is usually only a temporary problem. After a few washes we find that panty liners and pads adhere quite well.
05/22/2020
I recommend this product
Power brief
Power brief is very comfortable and supports my stomach very well. Shopping experience was fantastic. B Free delivered quickly and absolutely no issues with returning an item which didn't fit.
Valerie B.
Australia
05/19/2020
I recommend this product
Love my power briefs they
Love my power briefs they are so comfortable to wear and smooths my stomach beautifully. Shipment arrived very quickly I am a very happy customer.
Leonie M.
Australia
05/04/2020
I recommend this product
Best Fit Ever
So quick and easy to order and the turn around is awesome! Fit so well and super comfy!
Tracie A.
Australia
04/08/2020
I recommend this product
Power brief 3 pack
These briefs are extremely comfortable and do not feel like shape wear at all I have had abdominoplasty 3 months ago and these briefs are high enough to cover my scar Happy to wear them all day, without any discomfort Higjl recommend
Nelleke V.
Australia
04/02/2020
I recommend this product
Amazing must buy
They are really comfortable, and do a great job at shaping and getting rid of the lumps and bumps, would highly recommend
Cassidy B.
Australia
03/30/2020
I recommend this product
Support
I pulled a back muscle. I purchased this so It would help support my back. It arrived quick and helps a lot.
Lamia E.
Australia