Reusable Stay-Dry Leakage & Period Pads - Black Lace 5 Pack
$64.95 $89.95
Or 4 fortnightly interest free payments from $16.24 AUD with
More info
This 5 Pack of Reusable Period Pads are an effective way of reducing monthly costs from buying pads or tampons while minimising waste and contribution to landfills.

The B Free eco-friendly reusable sanitary pads are the perfect solution for medium to super high flow periods, incontinence or bladder leakage and discharge. These washable sanitary pads feature a waterproof backing so you can stay confident that you won't experience any leakages. The absorbent fleece lining wicks away moisture to ensure long-lasting comfort.
To wear these easy-to-use pads with wings, simply clip onto your undies to secure in place all day or all night. If you are out and about and want to change to a fresh pad, fold the used pad so the waterproof backing is on the outside and secure the clip on the wings to store. Once you get home you can rinse them out and put it in the washing machine when you are ready.
Approx. 25.5cm length and 9cm width (when fastened). Please note that these measurements are estimates and actual measurements may vary due to production. 
Beautiful black lace pattern
Leakproof design for all-day confidence

Suitable for regular to super heavy flow periods

Suitable for incontinence and bladder leakage

Can be worn overnight 
Washable and re-usable
Eco-friendly
Absorbent to prevent leakage
Clips to secure onto underwear
Fold and clip to store in your bag while out and about
Comes in a complimentary pouch
Washing Instructions: After use, we recommend rinsing it with cold water until it runs clear (as hot water can set the stain), hand wash or pop them in the washing machine. For heavier flow days, you can do a pre-wash step by first soaking the pad in cold water with a drop of tea tree oil to sanitise.

Please note that due to hygiene reasons this item is not eligible for return.
For regular to super heavy flow periods. Also suitable for incontinence and bladder leakage
Want To Know 10 Reasons Why You Should Switch To Reusable Pads? Click here to read it on our blog! 
Customer Reviews
Write a Review
Ask a Question
12/02/2020
I recommend this product
So nice.
I absolutely love BFree and their products. These sanitary napkins are beautiful, soft and comfortable and they do exactly what they are supposed to. They fold up nicely and don't smell. I bought a set for my daughter as well.
Wendy S.
Australia
11/30/2020
I recommend this product
Very Satisfied
Very happy with the website browsing and the process of purchasing and checking out. Really happy with the packaging of the product when it is delivered. The product itself is nice, comfortable and easy to be used. Overall I am very happy with the experience.
Stephanie L.
Australia
11/19/2020
I recommend this product
Day and Night Starter Set
I was very excited to receive my reusable pads in the mail. While B Free got my order wrong initially, I was highly impressed with the level of service and quick response time to my query. They made the exchange process very easy and their product is of a high quality. The designs are good and the waterproof carry bag is handy to have. It is good to feel like I am doing something positive for the environment by eliminating the use of disposable pads.
Emma
Australia
11/04/2020
I recommend this product
Goodbye disposable sanitary napkins!
I was a bit of a sceptic at first, but I have always been self conscious of what disposable sanitaries are doing to our environment. So I tried them, now I will never look back. These reusables are so comfortable and absorbent, you won't even know your wearing them & cleaning them is as simple as rinsing under cold water... ready to reuse again! Love them!
Shona H.
Australia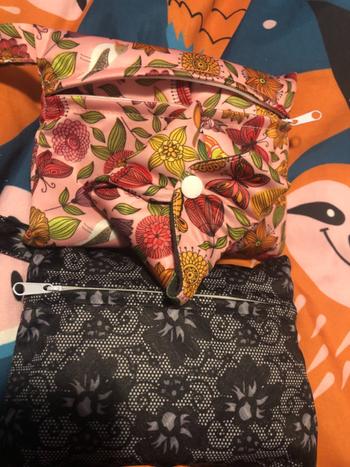 11/03/2020
I recommend this product
Day & night starter pack
OMG wish I was on this trend months ago as I'm happy that I don't have to remember to buy a pack of pads every month when I can have these folded in the same place and very easy to clean and wash!
Larnie M.
Australia
10/22/2020
I recommend this product
Better than disposable pads!
I love these pads so much! They are comfortable, they fit well and they are incredibly absorbent! At first I was a bit iffy and honestly a little scared about leakages, but after I tried them I had no regrets! Another thing I noticed is that they're not as hot and sweaty as disposable pads; they kept me cool. For me, hand-cleaning them was quite gross at the beginning, but that's just something to get used to. I saved about 10+ pads from going into the waste and there's honestly no better feeling than knowing you've made a difference for the planet! I'm definitely going to buy more!
Aaliyah C.
Australia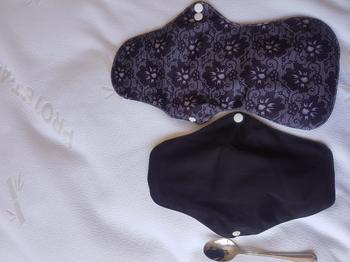 10/16/2020
I recommend this product
Comfy texture
I bought a day n night pack. It's quite good quality more than I thought. Comfy texture n easy to wash. With the water proof bag, it's convince to use even outside. But not sure if it's in a hot n humid country, might be a bite too thick. But I love it
fu J.
Australia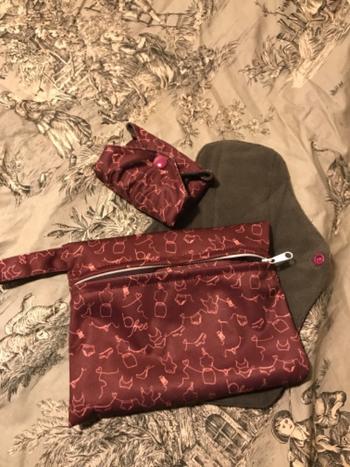 10/13/2020
Style, comfort and practicality
I love this version of the BFree reusable pads - the pattern is cute and the handy zip bag makes changing on the go easy and discreet. Bring on more patterns!
Simone T.
Australia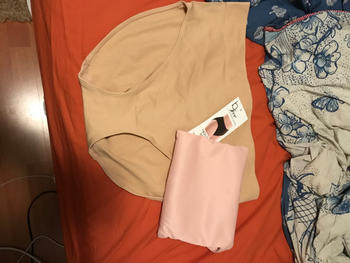 10/13/2020
Comfort and security
BFree has been a most excellent discovery for me. It's easy to purchase, arrives in a timely manner (despite Covid restrictions!) and totally fulfils its promises! It's so easy to wash and clean, and, as I use the pads for incontinence, provides a level of protection which is unequalled. So much better than disposable alternatives! And soooo comfy!
Simone T.
Australia
09/30/2020
Great deal
These are so comfortable, not causing any itch or rash on my sensitive skin. Great price as well! Delivery was fast and packaged beautifully. It has been perfect shopping experience. I definitely get some more to myself and eventually to my daughter.
Ayako D.
Australia