Ultra Thin Maxi Reusable Leak Proof Pads - Nude 3 Pack
$69.95 $94.95
Or 4 fortnightly interest free payments from $17.49 AUD with
More info
Enjoy the confidence of leakproof protection with our generously sized, ultra-thin and lightweight period and pee proof pads. These innovative pads offer multiple absorbent layers to hold and wick away liquid without the feeling of bulk or discomfort. The waterproof backing puts a stop to leakages whilst the non slip tape holds these pads in place and prevent slippage. Unlike pads with wings that need to be clipped around a gusset, these pads are versatile and can also be worn with more full coverage style underwear including shorts.
Approx. 32.5cm in length
Nude beige waterproof backing
Reusable and washable! Be more sustainable while reducing monthly expenses from disposable pads, tampons etc.
Moisture wicking stay dry top layer
Generous in length and width for full coverage protection
Non slip tape backing
Wingless design
Lightweight, thin feel
100% Cotton middle absorption layers
Comes with complimentary waterproof storage bag
Composition:
Inner: 100% Polyester
Middle: 100% Cotton
Outer: Waterproof Polyester
Washing Instructions: After use, we recommend rinsing it with cold water until it runs clear (as hot water can set the stain), hand wash or pop them in the washing machine. For heavier flow days, you can do a pre-wash step by first soaking the pad in cold water with a drop of tea tree oil to sanitise.

Please note that due to hygiene reasons this item is not eligible for return.
For regular to super heavy flow periods. Also suitable for incontinence and bladder leakage
Want To Know 10 Reasons Why You Should Switch To Reusable Pads? Click here to read it on our blog! 
Customer Reviews
Write a Review
Ask a Question
01/05/2021
I recommend this product
Reusable liners for at night
Miss 13 loved they way they were packaged as they looked like a gift. They lasted her all night and are super soft. She was very happy.
Kath
Australia
01/05/2021
I recommend this product
Reusable liners
I purchased these for miss 13 as the daytime ones aren't enough for at night. She had no leaks or mess and they lasted all night!
Kathlyn D.
Australia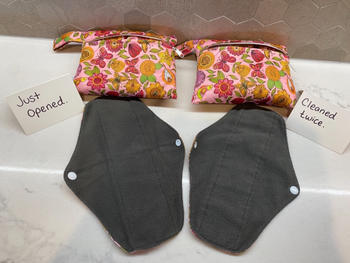 01/04/2021
I recommend this product
Love them!
I'm a 5-9 day bleeder the first 3 days super heavy then just the annoying spotting! Pads irritated my lady bits and over night on my first days I'd always get blood in my bed! So I figured why not buy something soft and reusable! Best decision ever!! They not only hold more blood then a pad, also had no blood in my bed!!! So soft I can't feel I have them on! I love them so mush I just bought more for my sister and mother in law (for her incontinence)!
Jennifer d.
Australia
12/23/2020
I recommend this product
Great product
Coming back for more!
Amber .
Australia
12/07/2020
I recommend this product
Amazing product
I had been looking for black re-usable pads for sometime and when I saw these available - I immediately purchased 2 sets. I had no doubt they would be good quality as I have purchased many other B-Free products before. I purchased them for periods and for stress incontinence purposes. They are breathable, easy to use, easy to wash and comfortable. Highly recommend.
Rebecca S.
Australia
12/03/2020
I recommend this product
An absolutely solid investment
Having used a menstrual cup for a few years now, I bought this bundle about 2 weeks before giving birth to my fourth baby, in the hopes of avoiding those horrible maternity pads postnatally. They arrived within a couple of days, which was the first positive thing. And then I started using them immediately post birth, and was blown away at how awesome they are! The level of absorbency was far beyond my expectations, and they kept me so clean and dry. In addition to that, they were so much more comfortable than disposable pads. This was also a bit of a "trial run" to test this type of product before my daughter gets her first period (at 13yo, its likely to be very soon!). I want her to have the ability to use sustainable products for her entire reproductive years, and these are going to be the perfect choice. So I guess I'll be making another purchase soon. Please accept my many thanks. I'm thoroughly impressed. Michelle :)
Michelle F.
Australia
12/02/2020
I recommend this product
So nice.
I absolutely love BFree and their products. These sanitary napkins are beautiful, soft and comfortable and they do exactly what they are supposed to. They fold up nicely and don't smell. I bought a set for my daughter as well.
Wendy S.
Australia
11/30/2020
I recommend this product
Very Satisfied
Very happy with the website browsing and the process of purchasing and checking out. Really happy with the packaging of the product when it is delivered. The product itself is nice, comfortable and easy to be used. Overall I am very happy with the experience.
Stephanie L.
Australia
11/22/2020
I recommend this product
Incontinence
Very good for minor inconvenience, haven't had to stress and worry about sneezing or laughing in public any more.
Julie
Australia
11/19/2020
I recommend this product
Day and Night Starter Set
I was very excited to receive my reusable pads in the mail. While B Free got my order wrong initially, I was highly impressed with the level of service and quick response time to my query. They made the exchange process very easy and their product is of a high quality. The designs are good and the waterproof carry bag is handy to have. It is good to feel like I am doing something positive for the environment by eliminating the use of disposable pads.
Emma
Australia