Anti Chafing High Rise Long Cotton Shorts - Fancy 3 Pack
3 Pack
$114.95 $204.95
Or 4 fortnightly interest free payments from $28.74 AUD with
More info
The ultimate comfort layer, is now in a value set of different fun colour options to suit your everyday life! Soft and smooth, these anti-chafing shorts provide full coverage and minimise thigh rub. They reduce thigh chafing and are made from a lightweight and breathable cotton-rich fabric, making them ideal for wearing under your outfit in all climates. The waistband is light and comfy and the fabric moulds itself to your figure to fit you perfectly; while the feminine lace detail lays softly against the skin.
Cotton-rich fabric

Stretchy and lightweight for ultimate comfort

Soft and breathable feel

Long leg length

Soft lace detailing on leg

Minimises thigh rub/chafing

Has no tags, labels or side seams

Ideal for all year round wear

High waist design with light, comfortable waistband
Fabric Content: Cotton/Nylon/Elastane. Cotton Terry Gusset.
Care Instructions: Warm machine wash. Line dry.
Sizing Note: These shorts are stretchy and flexible in sizing. Note that they are generous in the waist and body. If you are in between sizes we recommend sizing down.
Click to Shop Anti Chafing High Rise Petite Cotton Shorts - Fancy 3 Pack
Click to Shop Anti Chafing Mid Rise Midi Cotton Shorts - Fancy 3 Pack
Customer Reviews
Write a Review
Ask a Question
Filter Reviews:
shorts
rolling
dresses
delivery
pack
three
digging
benefit
cotton shorts
life
04/17/2021
Life changing!
I am HEAD OVER HEELS IN LOVE - my life has CHANGED! I can now just wear whatever I want (i.e. dresses and skirts) allllll year round, as I have found beautiful shorts that prevent ALL CHAFFING issues! Thank you! Thank you! Thank you! I bought Large, and consider myself a size 16-18 bottom, 42 years old, mum to two, 104kg, 175cm tall. Perfection!
Michelle P.

Australia
04/13/2021
Love these
I have purchased a few different brands in this style. These are the only ones that do not ride up. and they fell so comfortable on.
Sam M.

Australia
04/11/2021
Comfortable and stylish
I live in a hot climate and I absolutely love these as they are light enough to not add to the heat but it means I can wear dresses without that awful chafe! Sizing is true to size.
Michelle B.

Australia
04/05/2021
Simply the best!
Better than anything else I've tried. Soft and breathable with no visible lines. I absolutely love these. Will be buying some more. Purchased in XL. - no seams tick ☑️ - no ridding up ☑️ - no rolling down ☑️ - no digging in ☑️ - no thigh rubbing sounds ☑️
Danielle M.

Australia
04/02/2021
Title is a good description of the product
Easy online shopping. The delivery was prompt and I was kept informed as to when to expect delivery.
Mary B.

Australia
03/25/2021
Comfortable
Lovely and light weight in our hot and humid weather
Bobi K.

Australia
03/22/2021
Great
So comfy, have purchased multiple items from Bfree now and love them all
Gemma L.

Australia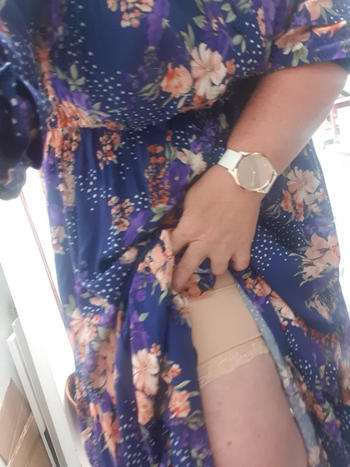 03/16/2021
So amazing, glad i finally found these!
I have tried all the control pants with longer legs, all very uncomfortable and all make a loud whooshing sound as i walk! These are soft, stretchy and most of all cool, i'm a big girl and summer is **** for me. I have gone for 10 years not wearing dresses because of the sweating and chafe and then i found these, i now have a closet full of dresses that i wear every single day with these underneath. Thank you so much for understanding what we need!
Katy M.

Australia
03/15/2021
Cotton short bliss
Hands down the best anti chaffing product I've tried and I've tried too many! I am also pregnant so the comfort and support it gives me all day is a gift. Love my shorts
Rebecca T.

Australia
03/11/2021
High rise cotton shorts
Excellent and very comfortable. Thank you, I would recommend these quality garments to anyone. Customer service is excellent also
Pamela M.

Australia