Bambini - Bamboo Bikini Brief 7 Pack
7 Pack
$89.95 $149.95
Or 4 fortnightly interest free payments from $22.49 AUD with
More info
7 Pack Maternity Bambini Bamboo Bikini
Looking for a low rise pair of undies that sits comfortably underneath your tummy? You have officially found your match! This style is perfect for maternity, but will also last you for long after you have had your baby.
The waist for this brief sits low on your hips making sure that your underwear will not interfere with your baby bump. This a beautiful classic style with a flattering shape. And it is super comfortable for everyday wear!
Our bamboo rich bikini is the most beautiful, breathable and soft fabrication. It offers superior comfort with its ultra smooth touch. These everyday undies feel luxuriously, cool and soft against your skin. The side seam free and tag free finish ensure total comfort.
Ultimate all day comfort
Soft bamboo rich blend
Side seam free
No tags or labels to avoid skin irritation
Easy wash and care
Designed to wear before, during and after pregnancy
Fabric Content: Bamboo/Nylon/Elastane
Care Instructions: Wash before wear. Warm machine wash with like colours. Line Dry.
Why Bamboo:
Bamboo man made fabrics have many great properties; breathable and cool,  have a nice lustre; extremely soft; fast water absorption performance; and anti-bacterial. It draws moisture away from the skin and therefore creates a cooling effect. It is naturally anti-bacterial and will not hold odour. This natural fibre is hypoallergenic, meaning it has a decreased tendency to cause allergies.
Bamboo is fast-growing; the type of bamboo used for making fabric, commonly known as Moso, can reach a mature height of 75 feet in just 45 to 60 days. Bamboo not only grows quickly but rarely needs pesticides. If there is sufficient rainfall, no additional irrigation is required. It regenerates naturally through an extensive root system that sends out an average of four to six new shoots per year.
Treat your body with nature's softness.
Customer Reviews
Write a Review
Ask a Question
09/28/2020
I recommend this product
Bamboo Bikini Brief
Amazing! They are so comfy
Shania-Rose W.
Australia
09/25/2020
I recommend this product
Too comfy!
Been looking for a good brand of comfy undies for a while now. These are perfect, very soft to touch, fabric is gentle to my sensitive skin and feels like I'm not wearing anything. Highly recommended!
Annie
Australia
09/23/2020
I recommend this product
Extremely comfortable
Extremely comfortable briefs, material is very soft and breathable, great for warm weather. Briefs fit well and don't leave visible lines under clothing
Darjana V.
Australia
09/14/2020
I recommend this product
Soo Comfortable
I was hesitant buying online especially for underwear. All of my undies I wear a lace gstrings as I normally hate full briefs as they cut in and you can always see the undies line and they always ride up! But as I'm pregnant I needed to get some full briefs. These undies are soo comfortable and stay in place - no wedgies!
Chantelle G.
Australia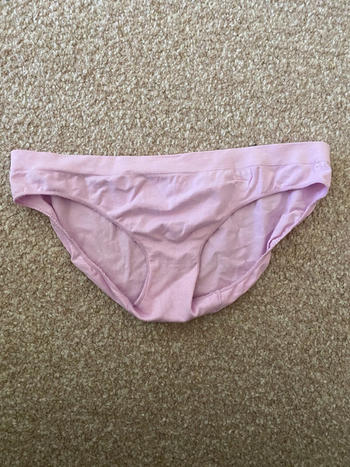 09/07/2020
I recommend this product
Super comfy and doesn't dig in
The fabric is so soft I love it. After reading another shoppers review I decided to upsize and get a (L) because I really hate when undies dig it, I am glad I did, I'm not sure if (M) would have been fine but I didn't want to deal with returning. Before pregnancy I would wear size 10 clothing but in Bonds size 12 underwear so you know how they fit, the fit is great especially as my body is growing during the pregnancy. Will see how they go after I give birth and if they feel big at all. But I'd rather be comfy now during the pregnancy.
Vivian G.
Australia
09/05/2020
I recommend this product
Very comfortable
Super comfy and very stretchable.
NEHA T.
Australia
08/25/2020
I recommend this product
Super comfortable!
Lovely stretchy brief - perfect for my growing tummy!
Jordan C.
Australia
07/24/2020
I recommend this product
Comfortable
Good comfortable underwear definitely recommend
Kendra S.
Australia
07/17/2020
Great! Super comfortable, recommend!
I love this set of underwear. I've felt quite sensitive to underwear that is not cotton throughout my pregnancy, and was looking for a full coverage set that didn't cause any irritation. This set has been amazing, it's officially all I wear. Super comfortable, doesn't cause me any irritation, and has great stretch for my growing belly and waistline.
Rebecca H.
Australia
07/12/2020
So comfy!
These are incredible! Feels like you're not wearing anything at all. I couldn't stand wearing other brands that even in a bigger size they would feel like they were cutting into me. About to purchase more!
Katey
Australia